Service Center

Zhongchuang casting technology (Shenzhen) Co.,Ltd
Tel: +86-755-23061556
Mobile:+86 13411875619
Email: sales@zcstek.com
Address:A8,TianRui industrial park,FuYuan 1 Road,Fuyong,BaoAn,Shenzhen,China 518103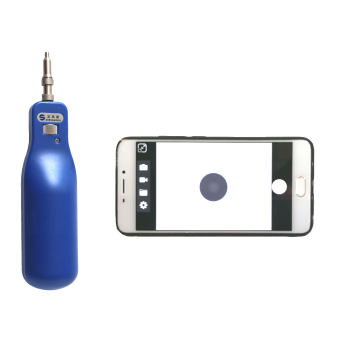 WIFI fiber microscope
ZC-720 WIFI optical microscope is a portable optical fiber microscope developed by shenzhen high-tech company. The image is transmitted to the mobile phone for display through WIFI signal, which is convenient to carry.It can clearly judge the condition of fiber end face, such as scratch and smudge, which is another good choice for fiber end face detection.
WIFI fiber microscope
Product features
Long service life and good image quality
The internal structure of the ZC-720 WIFI optical microscope been redesigned to provide a longer service life.No matter how bad the working environment is, the internal optical device will not deteriorate and the display image quality will be consistent.
Using WIFI signal, the connection is more convenient and the signal is more stable
According to customers' feedback, the mobile phone is connected with WIFI signal, which is in line with modern intelligent working mode and more stable connectivity.No matter it is factory environment or construction site, our detector can guarantee stable and clear image.
Special image acquisition software, can take photos, take video and store
ZC-720 WIFI optical microscope transmits the image signal to the mobile phone. Through the developed image display software, the image can be displayed more clearly and it is more convenient to view different face conditions and satisfy various test environments.This software can take photos, take video and store it on the phone.
Can detect a variety of models of products
Can be equipped with a variety of adapter interfaces, which can meet the testing requirements of various optical fiber connectors, optical fiber transceiver modules, TOSA/ROSA components and other products.The newly added MT interface can detect MPO and MTP products, such as MPO, MTP adapter, 40G, 100G optical module, etc.The next step of high-density data center maintenance can be fully satisfied.
Technical parameters
| | |
| --- | --- |
| project | parameter |
| Image magnification | 200 times |
| Video signal format | WIFI signal transmission |
| Power consumption | 3W |
| Display mode | Cell phones or mobile devices |
| Operating temperature | -10~50℃ |
| Storage temperature | -20~50℃ |
| The power supply mode | Built-in rechargeable lithium battery |
| Working time | 4 h |
| Volume | 23mm*160mm |
Operating instruction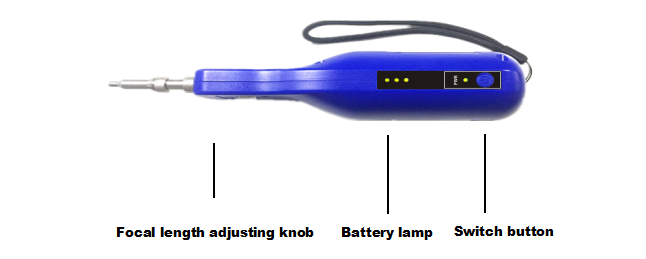 l Long press the startup button and wait for startup.
l Turn on the phone and connect the WIFI signal of the test handle.
l WIFI connection is successful, open a dedicated APP, into the testing interface.
l Adjust the focus knob to make the image as clear as possible.
Product accessories
| | | |
| --- | --- | --- |
| Number | The product name | QTY |
| 1 | ZC-720 WIFI optical microscope | one |
| 2 | Built-in rechargeable lithium battery | one |
| 3 | Power adapter | one |
| 4 | Operating instruction | one |
| 5 | Product warranty card | one |
| 6 | Certificate of approval | one |
| 7 | Clean cotton swabs | one |