Service Center

Zhongchuang casting technology (Shenzhen) Co.,Ltd
Tel: +86-755-23061556
Mobile:+86 13411875619
Email: sales@zcstek.com
Address:A8,TianRui industrial park,FuYuan 1 Road,Fuyong,BaoAn,Shenzhen,China 518103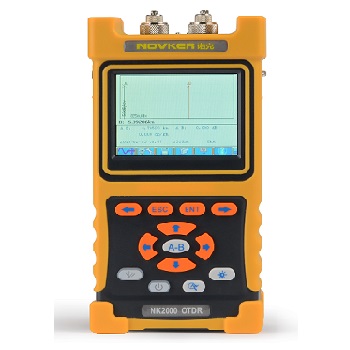 Mini smart OTDR
Hand-held Optical Time Domain Reflectometer of ZCNK2000 Series is a newly hand-held and intelligent communication measuring device in accordance with the test of Optical fiber and Communication System
ZCNK2000 Smart Series
Hand-held Optical Time Domain Reflectometer
Main features:
Ø The novel and beautiful structural design of the appearance.
Ø The most convenient operation mode in the industry is as simple as available.
Ø ultra-short event dead zone can test the wire jumper of the optical fiber.
Ø It can test the circuit with light and give an alarm, avoiding existence of the equipment whose signal light is damaged in the optical fiber tested.
Ø High-power visible laser fault location function is equipped inside.
Ø USB interface can transfer the documents and make the report forms fast.
Ø Universal light output interface which is easy to be replaced enables a variety of interface tests.
Ø The working duration of more than 8 hours enables long-time field construction.
Ø Multiple choices of wavelengths and dynamic ranges best meet the requirement of the users.
Ø Highly intelligent analytical software can accurately recognize the melting point of the fault. The junctor may bend.
Technical Specification:
Model Item

ZCNK2000 Series

Optical fiber type

Single-mode

Central wavelength(nm)

1310/1550

Maximum dynamic range(dB)

28/26

Event dead zone(m)

1

Attenuation dead zone(m)

10

Display screen type

3.5 inch color LCD, operation of the touch screen

Optical interface

FC/UPC (can be interchanged to SC or ST)

Test range (km)

60km~80km

Pulse width(ns)

10、30、50、100、275、500、1000、5000、10000

Ranging accuracy(m)

± (1m+ sample interval +0.005%×distance)

Attenuation measurement (dB/dB)

±0.05

Reflection measurement (dB)

±5

Data storage

≥800 testing curves

Communication interface

USB

Visible red light source

Output power

≥2mW

Testing distance

≥5km

Environmental adaptability

Power supply mode

AC/DC adapter: alternating current:100V~240V (1.8A), 50/60Hz

direct current: 19V±1V(2A)

Internal lithium ion battery groups: 8.4V,5200mAh

Working duration of the battery

≥8hours

Working temperature

-5℃~50℃

Preserve temperature

-20℃~70℃

Weight

≤1kg

Volume

208mm×110mm×56mm
Standard Configuration
| | | |
| --- | --- | --- |
| Number | Name | Quantity |
| 1 | ZCNK2000 OTDR | 1 |
| 2 | Power line | 1 |
| 3 | AC/DC power adapter | 1 |
| 4 | Product qualification certificate | 1 |
| 5 | User manual | 1 |
| 6 | Disk (including simulation analysis software) | 1 |
| 7 | Special bag for the instruments | 1 |
Note: The standard configuration of OTDR interface type is FC/UPC. The type of FC/APC is optional.